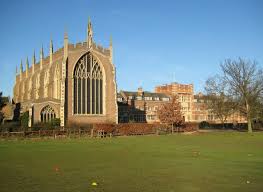 The idea for the creation of Sadler Heath first emerged in 1999 and took a couple of years to form.  We wanted to create a space in which people could be supported in their careers and in their learning regardless of where they worked.  We were helped by the input of an early Board who worked up ideas for how we might best provide the mechanisms for mutual support, and eventually, in November 2002, we held our first "organisational breakfast meeting" in a room in the beautiful All Saints Pastoral Centre in Shenley, just north of London.  Many of the people who attended that first meeting are still regular participants in our events now.  Sadly the Centre has closed since and it is our aim, at some stage in the future, to restart a St Albans community.
From 2003 onwards, we ran 4 events a year on a huge variety of topics, brought initially by our Board members, and then increasingly by regular participants.  Because nobody gets paid anything, because we never wanted the moral obligation of a "favour" and mainly because we want everyone to come on their learning edge, we very quickly formed the principle that the people bringing the topic would be bringing something to explore and work through with whoever attended, on their learning edge too.  So our events have always been experimental.  We also noticed from very early on that the attendees valued reflection and connection time with each other around the topic and therefore our events are at least as much an opportunity to talk and connect as they are to hear new material.
We also quickly decided that our events would be a space to which people would come without obligation.  We are not a network, not a group and not something to which people should feel obligated.  We are simply a permanent "space" which is available should people choose to come.  We encourage people to NOT come if there is a difficulty or another more important draw on their time so that we have a space in which people are there simply to learn and connect completely by choice.
In 2005 we were really fortunate to be offered a complementary room in 1 London Bridge and for a few years we also ran 4 events a year there.  In about 2007 we decided that the best way of containing a safe space for learning in what are quite experiential events, would be to have a moderator at each event who provided the containing space to enable both presenter and participant to maximise their learning and we formed a group of moderators who knew Sadler Heath intimately, who were fabulous facilitators in their own right, and who wanted to work with the values and principles that had been the DNA of Sadler Heath since its formation.   These moderators now form the backbone of our community.
In the years since, we have formed communities in Devon, in Lewes, in the Chilterns and we have played with communities in Norwich and Cambridge.  In 2013 we decided that we did not want to grow our moderator base anymore and that from then on we have supported new self-directed learning communities to form themselves independent of Sadler Heath but really welcome to take any support and learning they need from us.  To our knowledge communities have formed in Freiburg, Germany and Northampton and we have helped a number of other people consider how they might create their own groups.
We run about 20 events a year across our communities and well over 1000 people have attended one or more of our events.  Many people come simply for the space and the connection, often not really caring about the topic which simply forms a catalyst for the deeper learning.